Every day from October 14 to October 15
6:00 pm
Calvary Taos Men's Retreat 6:00 p.m. Friday, October 13th through 12:00 p.m. Sunday, October 15th.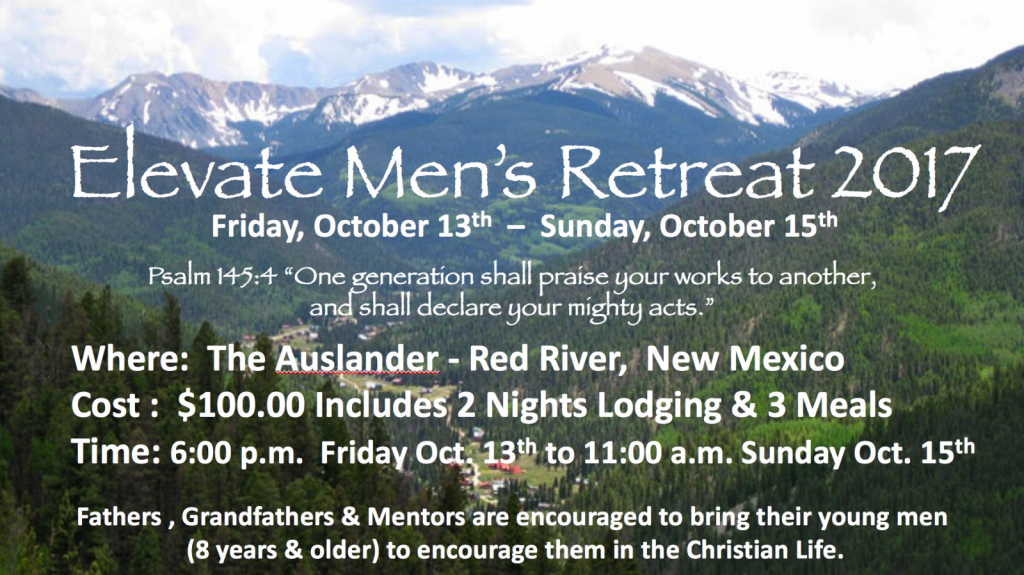 We look forward to a great time of Fellowship in the Lord as Pastor John and the Elders of Calvary Taos teach 8 sessions on Adjusting our Alignment with God. We will explore how to align our lives with God as we look at the examples God has given us through the lives of men in the Bible who have led the way for those of us who would follow. The Conference will wrap up with a Sunday Morning Service and communion.
Auslander Condominiums in Red River is an awesome place to relax and enjoy good fellowship and the beautiful mountain surroundings of Red River, NM.
Retreat Schedule
Friday, Oct. 13th
6:00 p.m. – Barbeque Dinner served.
7:30 p.m. – Worship
7:45 First Session – Speaker: John Privitt
Saturday, Oct. 14th
8:30 a.m. Devotion – How to get the most out of your devotion time – John Privitt
8:45 a.m. – Break for Breakfast. Breakfast is not provided. There are a few restaurants that serve breakfast or you may just bring your own breakfast food. Each Condominium has a full kitchen.
10:00 a.m. – Second Session – Speaker: Art Torres
Break
11:00 a.m. – Third Session – Speaker: John Privitt
Lunch Break
Available Activities (Additional Cost): Go Kart Races / Chair lift / Horseback Riding
ATV Ride, Zip Line, Ropes Course.
2:30 p.m. Session Four – Lucas Wren
Break
3:45 p.m. – Session Five – Speaker: Ernie Lucero
4:00 p.m. – Session Six Speaker: Randy Lagro
Break
4:30 p.m. Session Seven – Speaker: Sean Walker
Break
5:30 p.m. Dinner
7:30 p.m. – Session Eight – Speaker: John Privitt
Worship and Prayer
Sunday, October 15th
Devotion – 8:30 – Dave Danforth
Breakfast Time – 8:45
Final Session – 10:00 John Privitt
Communion 11:00
Check out 12:00 noon.